Today 9th May, 2010, according to our cyber History 'teacher'

Cikgu Mat Gebu

, is Mother's Day in Malaysia. And so, I take this opportunity to wish each and every mom and mom-to-be a HAPPY MOTHER'S DAY. To me, each and everyday is a mother's day but today, it is extra special. May we be blessed with good health and happiness always.... To my mom, Hajjah Foziah binti Haji Ahmad....HAPPY MOTHER'S DAY MAK AND MAY ALLAH BLESS YOU ALWAYS!

I received this lovely rose from

Ros of Jintan Manis

. Thank you so much Ros for the lovely rose...




And also, a Mother's Day card from

Along Roz

of Home Kreation. Thank you so much Along...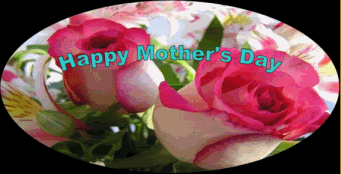 A sweet card from

FiDa@MiDa

. Thanks Fida..




A pink color card from

Ummi

. I like! Thank you Ummi....

psst.. mana ada pesan suruh ambil? Seganlah mama orang tak suruh, sesukak haaati je nak main ambik!






And another card from

Dr Inahar

. Thanks Ina. Muaahhhsssss.




Not forgetting, the wishes that came in my cellphone....

From Ayu (hubby's cousin), Haslinda (my best friend),

Jasmeen

and

MaDiHaA

:
Ya ALLAH, wanita yg membaca sms ini adalah seorang ibu yang cantik, kuat, sabar dan saya menyayanginya.
KAU tingkatkanlah kehidupannya dengan rezeki yang berkat.
KAU rahmatilah setiap langkahnya dalam mencari rezeki keluarganya.
KAU bersihkanlah hatinya.
KAU kuatkanlah imannya...
KAU peliharakanlah dia dari fitnah.
Amin Ya Rabbilalamin
SELAMAT MENYAMBUT HARI IBU

From Ibu Ina aka Mektok (hihihi) :
Salaam. SELAMAT HARI MAMA. Semoga sentiasa menjadi ibu yang terbaik buat anak-anak.

From

Ana Elianas

:
Motherhood is a tough 24 hour job. No pay. No day-off. Most often unappreciated and yet resignation is impossible! Hello great mom! Happy Mother's Day

From : Kak Leen
Kasih sayang yang tulus ikhlas dari jiwa yang murni dan sikap merendah diri terhadap sesama insan umpama mawar putih yang sentiasa bersinar bersih dengan baunya yang sentiasa mewangi. Begitulah kasihnya seorang ibu terhadap anak-anaknya walaupun banyak cubaan melanda, semuanya diterima dengan berlapang dada serta redha dengan ketentuan ALLAH. SELAMAT HARI IBU

From :

Wafaa


Happy Mother's Day

From :

Intan


To all mothers, PLEASE READ THESE....
It's NORMAL when you're in your 20s, you'll look very 'MENGANCAM'
When you're at 30s, you begin to behave 'BERMACAM-MACAM'
When you turn 40s to 50s, you'll feel 'TERANCAM'
and sadly, when you reach above 60s, orang langsung tak boleh 'CAM'!!
Happy Mother's Day!! Hope that we will all maintain MENGANCAM!

From : Copi
"The heart of a mother is a deep abyss at the bottom of which you will always find forgiveness. Happy Mother's Day!"

From : Minder
Happy Mother's Day to you.

To all who had sent these sms, thank you from the bottom of my heart for remembering me.....

And also, to those who had left messages in my comment box, I thank you so much. And here's wishing all the same to all of you.... take care!