T.H.E R.A.M.B.L.I.N.G.S
It is 26th Ramadhan today. Time flies without me realizing it. Honestly, I feel this Ramadhan went by so fast! Eid is just around the corner! Maybe I was just TOO busy trying to get everything organised and settled. But I am quite happy with what I've achieved so far. I hope to be able to complete my long list-to-do before Ramadhan ends.
Thank you again to all of you for sparing some of your precious time to pay me a visit eventhough my blog had been quite quiet especially this Ramadhan. I hope to be able to update more often if time permits.
T.H.E R.E.C.I.P.E
Had been keeping this recipe for quite a while and kept saying that I am going to try it out. Well, the recipe stayed safe and sound in the file until this week.. finally it's free!!! Hahaha... anyway, thank you to Puan Harlina Mahdar of RNet for the recipe. But it was
Mak Lang Azie
who shared the recipe with me. And not to mention
Che Mat Gebu
for always 'poisoning' me with his tried and tested recipes. One of them is this lovely Suji Brunei. Thank you to all.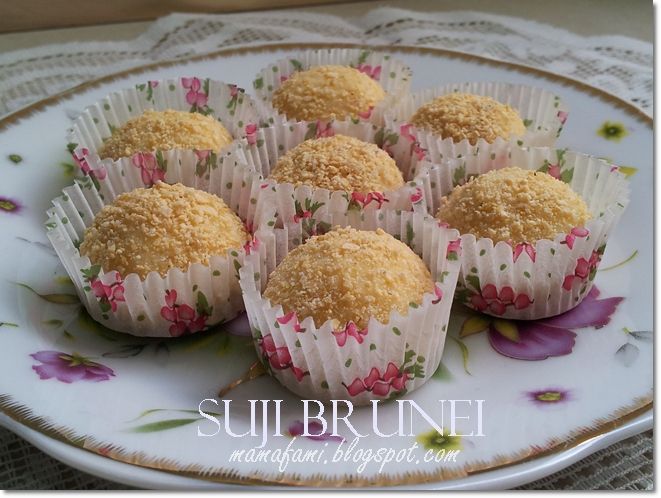 SUJI BRUNEI
Posted by MamaFaMi
Source : Harlina Mahdar via Maklang Azie
Ingredients :
200g ghee (I used Windmill Gheeblend)
100g shortening
180g caster sugar
1 egg yolk
100g cornflakes - finely ground
80g cornflour
80g semolina/sugee flour
enough flour
Coating
:
milk powder
Nestum - finely ground
Icing sugar - optional (I omit)
Method :
1. Mix ghee, shortening and caster sugar.
2. Add in egg yolk. Continue mixing.
3. Add the cornflakes, cornflour and semolina. Mix well.
4. Finally add in flour, a little at a time till you get a soft dough.
5. Pinch off pieces and roll into small balls, the size of a marble. Place them on the baking tray.
6. Bake in a preheated fan oven at 150 C for 20 minutes or so.
7. Let it cool before coating with the mixture of milk powder and ground nestum.
8. Place on a small papercups and ready to serve.
Have a nice day!