First and foremost, thank you so much to all that had participated in this little game that I had created. I am so pleased to receive quite a number of responses, starting from the very first day I put up the form. Unfortunately, some problems occured with the form after the first day it was up. Maybe I've overlooked somewhere or maybe I don't really know how to go about placing the form on my blog. Thank you to MyHasla for bringing this problem up or I wouldn't have known about it.
To be fair to all, I have 'appointed' 3 trusted and creative juries (names withheld) to do the short listing for me. I had asked them to choose 3 names from the list. So now is your turn to finalise the name for me, if you're still with me that is..... please take a few seconds of your precious time to do the voting and I thank you in advance. The poll will be up till this Sunday. Actually I was thinking of Friday, but then, I am not too sure whether I'll be able to update my blog by then. So let's just prolonged it to Sunday huh.... Once again, thank you to all that had participated and always remember...
kita semua adalah pemenang, tiada pengalah
.....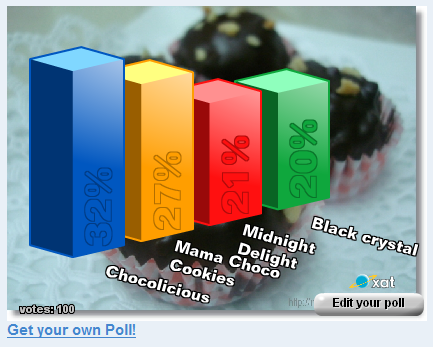 SINCE IT IS ALREADY SUNDAY, AND THE VOTES HAD REACHED THE NUMBER 100, SUCH A NICE NUMBER, SO I'D LIKE TO ANNOUNCE THAT THIS POLL IS OFFICIALLY CLOSED. THANK YOU TO ALL THAT HAD PARTICIPATED AND I WILL ANNOUNCE THE CREATOR OF MY NONAMA COOKIES, NOW KNOWN AS CHOCOLICIOUS, IN MY NEXT ENTRY, INSYAALLAH... THANK YOU...
For Iftaar today, I had prepared
Asam Pedas Ikan Tenggiri
and
Kailan Goreng
to go with plain rice, for hubby and Syahmi. It was Syahmi who really wanted the Asam Pedas and from school, both of us went to several shops, hunting for
Ikan Tenggiri
. It seems, if it's full moon, the fishes are difficult to get, at least that's what one of the shopkeepers said. How true is this, I am not sure. Finally we found some not bad looking
ikan tenggiri
cut at SSW. Thought of buying just 3 pieces but Syahmi said to buy 4...hahaha..that's what you get for bringing a fasting kid along with you to do shopping!!
Besides the above menu, I had prepared some garlic bread to go with
Mummy Jam
's Kacang Phool. The first time I saw her dish, I was already wishing for a plate. Thank you Mummy for discovering the recipe and to the creator of the recipe, credit goes to you too. At first, I thought of baking my own baguette but time was running out, due to our 'hunting activity', I had to cheat and get the French Loaf from Giant... after all it's hasslefree and it just cost me RM0.99! The funny part is, when I asked Syahmi to take one baguette, while I stayed in the line at the cashier counter, he asked me...is this my new
rotan
(cane)? Hahaha... Syahmi with the creative mind!!!
Mummy dearest, allow me to copy and paste the recipe here as I am already late for my prayers.... thank you once again.....
For the recipe......
KACANG PHOOL




Source :

Mummy Jam's Fotopages



Ingredients :

1 can of broad beans

(kacang parang, I used Kimballs)


200 gm of mincemeat

(I used minced chicken)


2 tablespoons of chili paste
2 tablespoons of meat curry powder
6 shallots – blend into fine paste
3 garlic – blend into fine paste
1 inches of ginger – blend into fine paste
1 piece of assam gelugor or assam keeping
A handful of chop coriander leaves
Salt
Oil
A bit of sugar

(I added)



For garnishing :

1 onion – diced
2 tomatoes – diced
2 green chillies – slice
Sunny side fried eggs
3-4 limes (I omit)

Method:

1. Heat some oil in the wok and sautéed the onion-garlic-ginger paste together with chilli paste till fragrance.
2. Add in the curry powder with a few table spoonful of water to prevent the curry powder from getting burnt, till oil floats to the top and the paste became thicken,
3. Add in the mincemeat, assam keping , salt, sugar and about ½ cup of water. When the mincemeat are cooked, add in the broad beans ( you can mash ½ of the beans if you like) and lastly the chopped coriander leaves.

To serve:
Spoon the kacang phool into bowls and garnish with fried egg, sprinkle some diced onions, tomatoes, chillies and lime.

This dish is best eaten with bread, especially the French loaf. I transformed my French Loaf to Garlic Bread.

Warmest regards,