Now you can say that I am under pressure...Why? Because I haven't settle quite a number of chores before Hari Raya which is just around the corner. But yeah... MamaFaMi never learns her lesson. Be it the easy way or the hard way! Mama...mama... when are you going to change? Huhuhu... only time will tell....
So yeah... since I have to rush rush rush
(mmm kalau dapat kereta RUSH, best gak kan... ahakss....berangan je la ma....)
, let me just post this new recipe I've tried yesterday. Another cookie recipe of course... I still have to bake a few more cookies before I can call it a day. All the best to me...
I took this recipe from
Resipi dot Net
. The recipe was posted by Norazie. Thank you Norazie for sharing this lovely recipe with us. It is surely a melt in the mouth cookies. Only thing, I didn't shape it the way Norazie did, which is very lovely, but made it like the traditional samperit cookie look. It's the taste that counts....*wink*
For the recipe....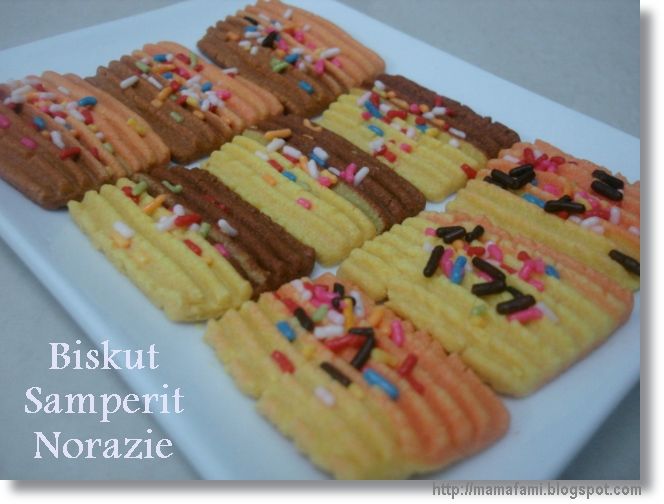 BISKUT SAMPRIT NORAZIE

Ingredients :

300g butter
160g icing sugar
100g corn flour
160g custard flour
240g flour
2 egg yolks
a few drops Rose essence

(I added)



Colored chocolate rice ~ to sprinkle

Method :

1. Cream butter and icing sugar.
2. Add egg yolks and rose essence. Stir to mix.
3. Add in the dry ingredients to form a very soft dough.
4. Place the dough into the cookie press mould and press onto the baking tray lined with parchment paper.
5. Sprinkle with colored chocolate rice.
6. Bake in a preheated oven at 150 C for 20 minutes.
7. Leave to cool before storing in an air tight container.

This is the cookie press that I used.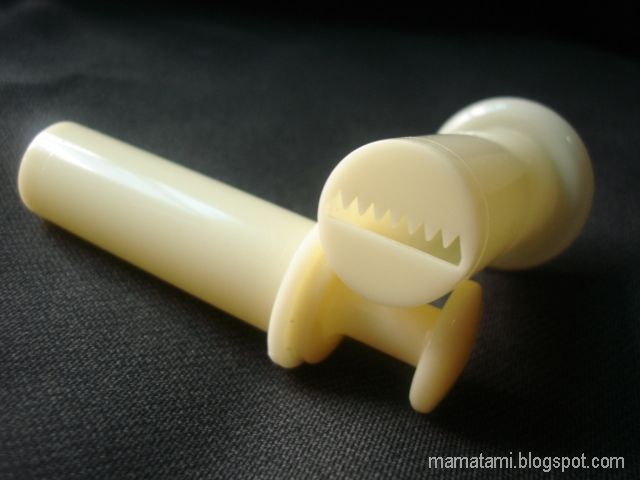 Happy baking,