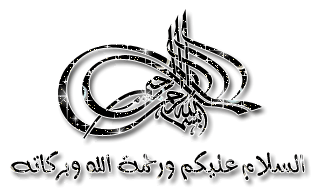 ......to all you good people out there... Firstly, let me take this opportunity to wish all the Muslims, a Happy and Blessed Ramadhan. I guess it's never too late to convey my wishes to all....
Courtesy of
The Purple Journal
I thought of updating my blog earlier than this but we can only plan, ALLAH knows best. Hubby made an ad-hoc plan to go back to Malacca to break our fast with his family. We were in Malacca till Sunday evening.
Now let me write something about the poll that I recently put up on my blog. Thank you so much to those who took some of their precious time to cast a vote, all the 147 of you. Thank you so much. It meant something to us. Speaking of US, let me reveal, who is my 'opponent'. Tha dha.....she is
Mak Lang Azie
. We were chatting about recipes when this thingy about sugar came up. I had described the Giant's fine sugar packet as yellow and blue but she said it's yellow and green. Both of us were so stuck up (in our opinion) and refused to give in! Finally this poll idea came to mind and were agreed by Mak Lang. There is no consipracy or what not, about this poll. It's just mainly for our satisfaction actually. And this is the result until late Thursday evening.......For clearer result, please click
here
I now declare....
I AM THE WINNER!!!
....huhuhuhu... girangnya hati dah menang nih...walaupun tak dapat hadiah.... asal menang je pun, jadilah.... hihihihi......
Well actually, there is no right or wrong answer here. All of us have our opinion about almost everything. It's just how people see things...... I had described the fine sugar packet to be Yelllow and Blue, to differentiate the Giant's Coarse Sugar which is Yellow and Pink..... Or is there anyone who wants to argue about the packet for the coarse sugar? Hahaha.... When I asked those who answered Yellow and Green, mostly will describe the top part of the packet color which is obviously yellow, and the green part is for the writing. Well, actually that Yellow and Green is Giant's color. We are talking about the sugar packet and not Giant.... at least, that's how I see it and that's my arguement... I rest my case.....
Mak Lang... lepas ni kita nak poll pasal apa plak? Meh cari tajuk! Hehehehehe....
Since I am just too lazy to type new recipes, I will just 'kidnap' this recipe from my
my fotopages
. Did this cookies for 2006's Eid in Malawi. The recipe came from a good friend of mine. Naseem. Thank you for sharing dear and really miss you guys so much. Take care.....
For the recipe....



CHOCOLATE CRESCENT



Ingredients :

250 g butter (I used margarine)
3/4 cup castor sugar
1 egg yolk
2 cups desiccated coconut
4 tablespoons cocoa powder ~ sifted
2 1/2 teaspoons baking powder
Flour as needed
White cooking chocolate ~ decoration

Method :

1. Cream butter and sugar until light and creamy.
2. Add egg yolk and continue beating.
3. Add in desiccated coconut, cocoa powder, baking powder and mix.
4. Add flour as required to make soft dough.
5. Dust rolling board with a little flour and roll out dough to 6 mm thickness.
6. Cut using a crescent cutter.
7. Bake in a preheated oven at 160 C for 20 minutes.
8. Leave to cool and decorate as desired.


Thank you FiDa@aMiDa for the Ramadhan Kareem card.